Sherman schematics
Jump to navigation
Jump to search
there seems to some question and confusion, about 12 volt VS. 24 volt radios in shermans. perhaps a gallery of schematics will help answer the question.
Gallery
1942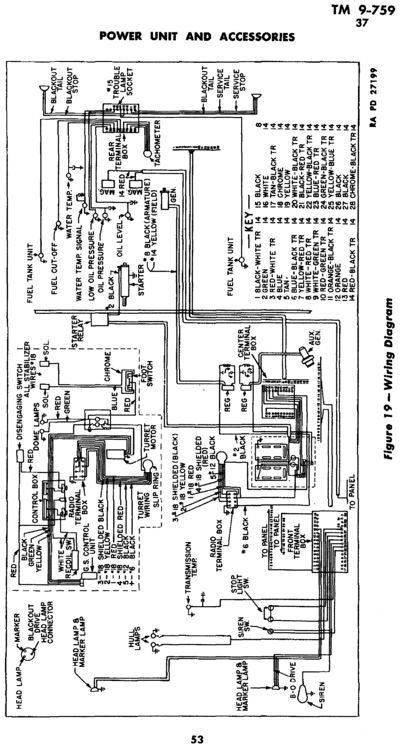 1944
from the volume 8 SNL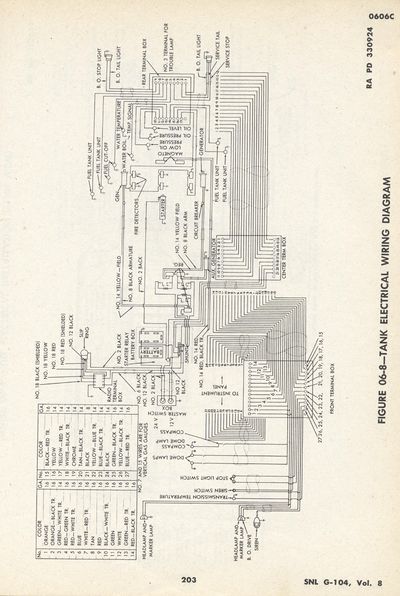 1953
at some point the color coded system was dropped and a number system, was instituted, along with this change, the brake lights were deleted. (at least on the A3 shermans). unfortunately the 1954 manual does not include a wire schedule. and I don't believe anyone has ever found a universal schedule to explain all the numbers. of course when the early tanks were rebuilt, they tried to put the new system into the old conduit runs, which of course created more anomalies. and more confusion.
armor harness
most armored vehicles used woven brass flex conduit with a "garden hose" fitting soldered on the end. the electrical connection was usually a bakelight connector with very small set screws for the wire. and a slide fitting over the set screw section.
References
TM 9-759 1943, 1944, 1953
TM 11-2704, 44. Installation of Radio and Interphone Equipment in Medium Tank M4 Series, 26 pages. PB 60520 - BSIR 4(12):1044; 03/21/47

TM 11-2704 1944 (Museum TD, Soesterberg/Corjan de Wit}}
TM 11-2748, 45. Installation of Radio and Interphone Equipment in Medium Tank M4A3 or M4A3E2, 75-mm Gun, Wet Stowage; Medium Tank M4A1, M4A2, and M4A3, 76-MM Gun, Wet Stowage; Medium Tank M4 or M4A3, 105-MM Howitzer, Jan.12, 1945

TM 11-2748 1945 + C2 (Incl. C2 of Jun.20, 1945 (Museum TD, Soesterberg/Corjan de Wit}}
TM 11-2748, 45. Installation of Radio and Interphone Equipment in Medium Tank M4A3 or M4A3E2, 75-mm Gun, Wet Stowage; Medium Tank M4A1, M4A2, and M4A3, 105-mm Howitzer, 40 pages. PB 80907 - BSIR 7(1):34; 10/03/47