SEN
Jump to navigation
Jump to search
Each SEN of the MSE has two assemblages, the SEN switch SENS and its supporting multichannel LOS radio terminal. The SEN provides ACUS access to smaller units such as battalion or brigade CPs. There were five different models of the SEN switch. The AN/TTC-48A(V)2 is used at EAC. The four remaining models are AN/TTC-48(C)1, 2, 3, and 4. The two configurations of the SEN are: the SEN(V)1 services 26 subscribers and the SEN(V)2 services 41. SEN teams must rapidly and aggressively seek to incorporate themselves into the CP they support. Threats, updates, casualty evacuation procedures, nuclear, biological, chemical (NBC) and early warning (air) procedures must be understood as well as the SENs responsibility in the site's defense. As the signal battalion representative, SEN chiefs must circumvent problems, keeping the unit BSO and battle staff well informed of system status and actual/potential problems.
Local users install wire from their telephones to a J-1077 which the SEN team connects to the switch. External connection to the NC is made by a LOS(V)1 at the SEN site. If the SEN switch is near its parent NC switch, it can be connected by cable. An SHF radio link can connect the LOS(V)1 to the SEN switch up to 10 kilometers away. This enables the remoting of the CP which reduces its RF signature. Also, the SHF link 3-12 FM 11-43 overcomes time, distance, and terrain limitations (down-the-hill radio). The SEN switch connects to multichannel TACSAT, AN/TSC-85 or AN/TSC-93 terminals by CX-11230A/G or CX-4566 (26-pair) cables. This facilitates range extension of the ACUS.
The SEN switch provides 2-wire (DC closure) for direct access to commercial switching offices. CNR users can access the MSE system through the secure digital NRI (KY-90). The AN/VRC-46, AN/VRC-90, AN/PSC-3, or the AN/VSC-7 satellite radio systems are compatible with the KY-90 NRI unit.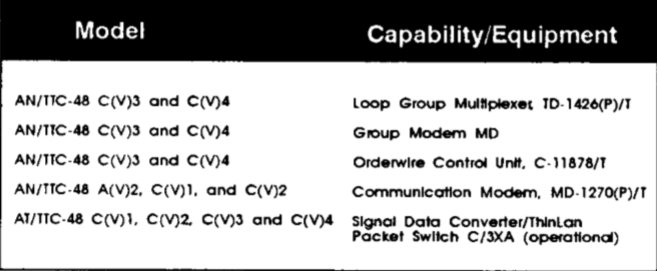 A SEN consists of the following elements: