OE-303/GRC
Jump to navigation
Jump to search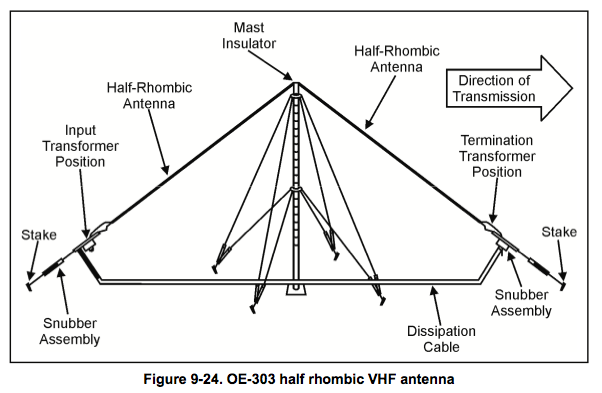 OE-303, VHF Half Rhombic Antenna
The VHF half rhombic antenna is a vertically polarized antenna that, when used with VHF FM tactical radios, extends the range of transmission considerably and provides some degree of EP. The half rhombic antenna, when properly employed, decreases VHF FM radio susceptibility to hostile EW operations, and enhances the communications ranges of the deployed radio sets. This effect is realized by directing the maximum signal strength in the direction of the desired friendly unit.

The VHF half rhombic antenna is a high gain, lightweight, directional antenna. It operates over the frequency range of 30–88 MHz. The antenna and all the ancillary equipment (guys, stakes, tools, and mast sections) can be packaged in a carrying bag for manpack or vehicular transportation.

The planning range for the OE-303 is equivalent to the planning range of the OE-254. The OE-303 half rhombic antenna is used with the AB-1244 mast assembly, consisting of 12 tubular mast sections (five lower-mast sections, one mast transition adapter, five upper-mast sections, and antenna adapter), a mast base assembly, and assorted ancillary equipment. When erected, the mast assembly is stabilized by a two-level, four-way guying system.

The OE-303 antenna handles RF power levels up to 200 watts. It matches a nominal 50 ohm impedance with a VSWR of no more than 2:1, over the entire frequency range of the antenna. It meets the operation, storage, and transit requirements as specified in AR 70-38.
The OE-303 half rhombic antenna has the following characteristics and capabilities
Erected in a geographical area of 53.3 meters (175 ft) in diameter, or less, depending upon the frequency.
Mounted on any structure approximately 15.2 meters (50ft) in height.
Azimuthal directional change within 1 minute.
Transported by manpack or tactical vehicle when fitted into a package.
Operation with the four-port FHMUX.

The OE-303 half rhombic antenna is used for special applications; it is task assigned as required. Its primary use is on C2 and intelligence nets to a higher headquarters. It must be available for use by units that habitually operate over extended distances from parent units, and must be available to units for special tasks. For more information on the half rhombic OE-303 antenna, refer to TM 11-5985-370-12.
Related Files

TM 11-5985-370-12
OPERATOR'S AND ORGANIZATIONAL MAINTENANCE MANUAL

ANTENNA GROUP
OE-303/GRC (NSN 5985-01-152-5845)
19 July 1984

TM 11-5985-370-12-HR
HAND RECEIPT
COVERING CONTENTS OF COMPONENTS OF END ITEM (COEI) BASIC ISSUE ITEMS (Bll), AND ADDITIONAL AUTHORIZATION LIST (AAL)

ANTENNA GROUP
OE-303/GRC (NSN 5985-01-152-5845)
19 July 1984

TM 11-5985-370-20P
ORGANIZATIONAL MAINTENANCE REPAIR PARTS AND SPECIAL TOOLS LIST

ANTENNA GROUP
OE-303/GRC (NSN 5985-01-152-5845)
28 May 1985