MP-48
Jump to navigation
Jump to search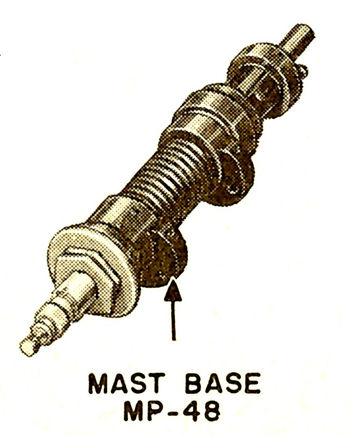 Configurations
W-128 wire on inside
W-128 wire on outside
W-128 wire attached to base with terminal end. (pictured)
WC-562 COAX wire attached to end,
early coax
late coax
COAX notes
Whenever you need more than 3 feet of wire, coax is required, however the female connectors are impossible to find so you will have to build your own. first you will have to find a base with the coax guts in it. if its NOS it will have a brass shipping cap on the end. by drilling this cap out it will give you a good place to start. you will have to go to google patents (Coaxial cable coupling US 2615953 A) and give those drawings to your gun smith along with your RG-11 coax. the photo is of a homemade connector in a M29. that we put together. using this method.
Related Files

TB SIG 154
Tech Bulletin

January 1945
TM 11-2704, 44. Installation of Radio and Interphone Equipment in Medium Tank M4 Series, 26 pages. PB 60520 - BSIR 4(12):1044; 03/21/47

TM 11-2704 1944 (Museum TD, Soesterberg/Corjan de Wit}}
TM 11-2715, Installation of Radio Equipment in Truck, 1/4-ton, 4x4, 78 pages, Sep.30, 1944 PB 23463 - BSIR 2(4):251;

TM 11-2715 1944 ONLY FIRST PART! (Museum TD, Soesterg, NL (Corjan de Wit) See 1/4-Ton 4x4 Truck (Willys-Overland Model MB and FORD Model GPW
TM 11-2715 Changes 1 d.d. Jan.26, 1945 and 2 d.d. May 17, 1945

TM 11-2715 C1 + C2 (Museum TD, Soesterg, NL (Corjan de Wit)