AB-903/G
Jump to navigation
Jump to search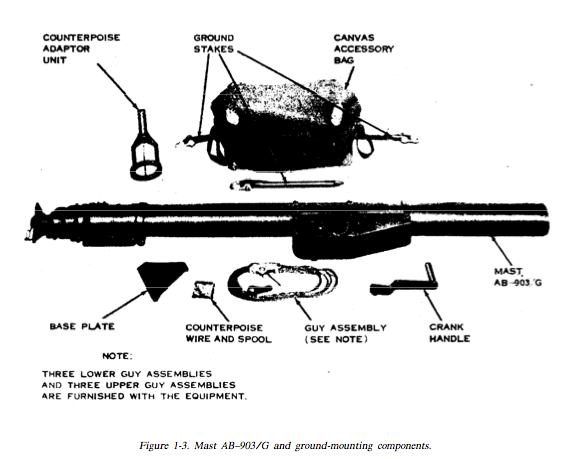 Purpose and Use
Purpose and Use a. Mast AB-903/G provides the means to raise such antennas as Antenna AS-1729/VRC 30 feet above ground level. The retracted height of the mast is 72 inches. The mast may be set up on the ground, or mounted on vehicles. The mast maybe raised to full height by handcranking.
Technical Characteristics
Height retracted

6 feet.

Height extended

29 feet, 3 inches.

Time required to raise mast (after installation of group).

25 seconds by hand.

Method of extending mast

Cable-driven telescope, tubular sections, activated by crank handle.

Tube sizes

4 1/4-inch diameter to 1 1/2-inch diameter

Number of tubular segments

6

Installation provisions

Ground or vehicular.

Number of guys

6 for ground installation.

Number of stakes

3

Material

Aluminum alloy tubing, corrosion-resistant cables and hardware, aluminum alloy mounting brackets, Dacron guy ropes.

Weight

Mast

40 pounds.

Mounting brackets, guys,anchors

4.75 pounds.

Maximum wind loading
35 mph without top guys; 50 mph with top guys.

Load limitation

20 lb masthead load over area of 2 square feet (Maximum allowable load on extended mast).
Reference Files

TM 11-5985-263-15
OPERATOR'S, ORGANIZATIONAL, DIRECT SUPPORT,

GENERAL SUPPORT, AND DEPOT MAINTENANCE MANUAL
INCLUDING REPAIR PARTS AND SPECIAL TOOL LISTS
MAST AB-903/G (NSN 5985-00-933-2197)
May 1970

TM 11-5985-263-24P
ORGANIZATIONAL, DIRECT SUPPORT

AND GENERAL SUPPORT MAINTENANCE
REPAIR PARTS AND SPECIAL TOOLS LIST
(INCLUDING DEPOT MAINTENANCE REPAIR PARTS AND SPECIAL TOOLS)
MAST AB-903/G (NSN 5985-00-933-2197)