S-250
Jump to navigation
Jump to search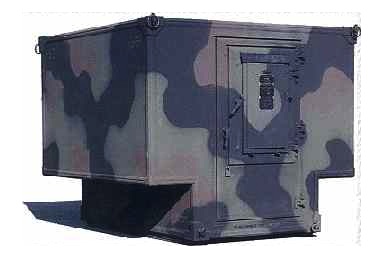 S-250 (PTT) COMMUNICATION CELL transports and operates base communication equipment with 1 1/4-ton military trucks (M705, M715, and XM561), 1 1/4-ton Type E commercial utility cargo vehicle (CUCV), 1 1/4-ton High Mobility Multipurpose Wheeled Vehicle (HMMWV), military cargo aircraft such as the C-130, helicopter, and by sea or rail unit. This high strength, insulated, all-weather, general purpose unit is designed to meet the user's specifications for complete systems integration.
The S-250 shelter is a foam and beam bonded sandwich construction consisting of a polyurethane foam core, aluminum skins and a framework of high strength aluminum alloy extrusions. Foam and beam panel construction provides high strength to weight ratios and facilitates ease of modification, repair, and maintenance.
Performance Specifications
Specification

MIL-S-55541
Weight

With EMI kit 762 lbs. min. - 802 lbs. max
Without EMI kit 750 lbs. min. - 790 lbs. max
Payload

2,530 lbs.
Roof Load

Snow and Ice 40 lbs./sq. ft.
personnel and Equipment - 660 lbs. over a 2 sq. ft. area.
Floor Load

1,000 lbs. over 3 sq. ft. area without permanent deformation
Member Loading

Wall, roof, and floor tensile load 1,000 lbs. followed by 75 inch-pounds torque load 5/16"-18 inserts
Temperature Extremes

Operating: -65° F to +125° F plus solar load
Non-operating: -80° F to +160° F
Heat Tranfer

U-factor - 0.50BTU/hr./sq. ft./° F. Designed to meet requirements of MIL-S-55541
RFI Shielding

With addition of RFI modification kit, attenuation of 60 dB minimum over 150 kHz to 10 GHz for electric and magnetic fields and plane waves measured IAW MIL-STD-285
Watertightness

Tested to 30 inch fording depth and to simulated rainfall
Lifting Eyes

Four (4) eyes with 3 in. inside clearance. 5,000 lbs. tensile load per corner in any direction
Towing Eyes

Four (4) eyes with 1.50 in. inside clearance. 5,000 lbs. tensile load per corner in any direction
Reference Files

TB10-5411-205-23
WARRANTY PROGRAM

ELECTRICAL EQUIPMENT SHELTERS
MODEL S-250/G UNSHIELDED (NSN: 5411-00-999-4935)
MODEL S-250/G SHIELDED (NSN: 5411-00-489-6076)
31 JANUARY 1990