RT-524/VRC
Jump to navigation
Jump to search
Receiver-transmitter, FM, 30-74.95MHz, 50 KHZ spacing, 920 channels. Manual tuning version of RT-246/VRC with built-in loud-speaker. The RT-524/VRC is the major part of AN/VRC-12 vehicle radio station typically used in M151 Truck, Utility ¼-Ton, 4x4 Mutt Jeeps series of vehicles as well as in older Humvee's and tanks.
Operates from 24 VDC vehicle battery or power supply. Transmitter output power 8W (low) and 35W (high).
Noise-operated squelch as well as an advanced tone-operated squelch (150 Hz) is provided. The tone squelch provides reliable retransmission when two receiver-transmitter are used as an automatic relay station.
The AN/VRC-12 is a combat-proven vehicular radio set that lends its self particularly well to applications of tactical deployment and specific operational missions because of their ability to be assembled into various configurations and of being installed on most types of military vehicles such as M-151 Mutt Jeeps, Humvees, heavy armour, etc.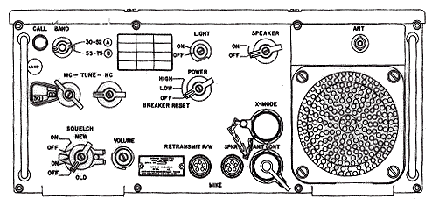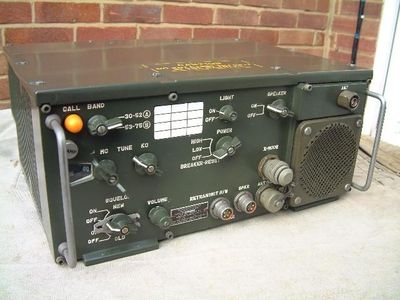 © 2014 Army Radio Sales Company, Used with Permission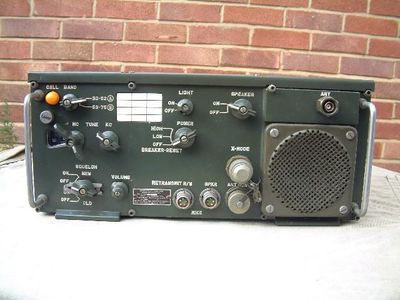 © 2014 Army Radio Sales Company, Used with Permission
RT-524/VRC Specifications:
Frequency range:

30.00 to 75.95 MHz
Channel spacing:

50 kHz
Number of Channels:

920 Channels
Mode of Operation:

Voice frequency modulated (FM)
Receiver stability:

Crystal controlled, + 3.5 kHz of nominal frequency
Receiver Sensitivity:

0.5 ?V for 10 dB (S+N+D)/(N+D) for 8.0 kHz deviation
Transmitter output power:

35 W "High Power" and 8 Watts "Low Power"
Transmitter deviation:

8.0 ? 2 kHz nominal
Circuit:

Super-heterodyne single conversion
Image Rejection:

Greater than 85 dB
IF Bandwidth:

32 kHz minimum @ 6 dB. 85 kHz maximum @ 60 dB
Squelch:

150-Hz tone-operated or noise-operated, with RF signal having 10 dB (S+N+D)/(N+D) ratio
Limiting:

Less than 1 dB change in audio output for RF input from 1 ?V to 100,000 ?V
Distortion:

Less than 8% from 500 to 3000 Hertz
Audio Output:

500 mW into 600-Ohm speaker 150 mW into 600-Ohm headphone
Volume Control:

Adjustable from less than 0.25 mW to 1.0 W maximum
Audio Pass-band:

500Hz-3000Hz
X-Mode:

Provided
Operating Temperature:

-40?C to +65?C (-40?F to +14?F)
Power Requirement:

24-28 VDC @10.0A
Dimensions:

6"H x 15"W x 13"D. (15.2 cm x 38.1 cm x 33 cm)
Weight:

58 lbs. (26.3 kg)
Video
Loading the player...
Related Files

TM 11-5820-401-34-2-1
DIRECT SUPPORT AND GENERAL SUPPORT MAINTENANCE MANUAL VOLUME 1 OF 2

RADIO SETS
AN/VRC-12 (NSN 5820-00-223-7412)
AN/VRC-43 (NSN 5820-00-223-7415)
AN/VRC-44 (NSN 5820-00-223-7417)
AN/VRC-45 (NSN 5820-00-223-7418)
AN/VRC-48 (NSN 5820-00-223-7433)
AN/VRC-47 (NSN 5820-00-223-7434)
AN/VRC-48 (NSN 5820-00-223-7435)
AN/VRC-49 (NSN 5820-00-223-7437)
RECEIVER-TRANSMITTERS RADIO RT-246/VRC
RT-246A/VRC (NSN 5820-00-892-0623)
RT-542/VRC AND RT-524A/VRC (NSN 5820-00-892-0622)
16 April 1984

TM 11-5820-401-34-2-2
DIRECT SUPPORT AND GENERAL SUPPORT MAINTENANCE MANUAL VOLUME 2 OF 2

RADIO SETS
AN/VRC-12 (NSN 5820-00-223-7412)
AN/VRC-43 (NSN 5820-00-223-7415)
AN/VRC-44 (NSN 5820-00-223-7417)
AN/VRC-45 (NSN 5820-00-223-7418)
AN/VRC-48 (NSN 5820-00-223-7433)
AN/VRC-47 (NSN 5820-00-223-7434)
AN/VRC-48 (NSN 5820-00-223-7435)
AN/VRC-49 (NSN 5820-00-223-7437)
RECEIVER-TRANSMITTERS RADIO RT-246/VRC
RT-246A/VRC (NSN 5820-00-892-0623)
RT-542/VRC AND RT-524A/VRC (NSN 5820-00-892-0622)
16 April 1984

TM 11-5820-401-34P-2-1
DIRECT SUPPORT AND GENERAL SUPPORT MAINTENANCE REPAIR PARTS AND SPECIAL TOOLS LIST
(INCLUDING DEPOT MAINTENANCE REPAIR PARTS AND SPECIAL TOOLS) FOR

RECEIVER-TRANSMITTER RADIO RT-246/VRC
RT-246A/VRC (NSN 5820-00-892-0623)
31 January 1983

TM 11-5820-401-34P-2-2
DIRECT SUPPORT AND GENERAL SUPPORT MAINTENANCE REPAIR PARTS AND SPECIAL TOOLS LIST
(INCLUDING DEPOT MAINTENANCE REPAIR PARTS AND SPECIAL TOOLS) FOR

RECEIVER-TRANSMITTER RADIO RT-246/VRC
RT-246A/VRC (NSN 5820-00-892-0623)
2 May 1983

TC 24-3
Radio Wire Integration

Installation and Operation Tips
Users Guide
30 November 1976

TM 11-5820-401-35-9
DIRECT SUPPORT, GENERAL SUPPORT, AND DEPOT MAINTENANCE MANUAL :INCLUDING REPAIR PARTS AND SPECIAL TOOLS LISTS

MOUNTING

MT-1029/VRC

MOUNTING

MT-1898/VRC

April 1974