R-80/PR
Jump to navigation
Jump to search
The Model S-39 "Sky Ranger" radio receiving equipment consists of a completely self contained 9-tube super- heterodyne communications receiver mounted in a steel cabinet suitable for table operation or portable use. It provides continuous· coverage of the broadcast and shortwave bands accepting either c-w telegraph or amplitude modulated telephone signals. Self contained telescoping antenna, speaker and batteries provide the utmost in versatility and convenience. In addition, the receiver may be operated from either· AC or DC commercial power sources. An external antenna may be used to increase the overall performance.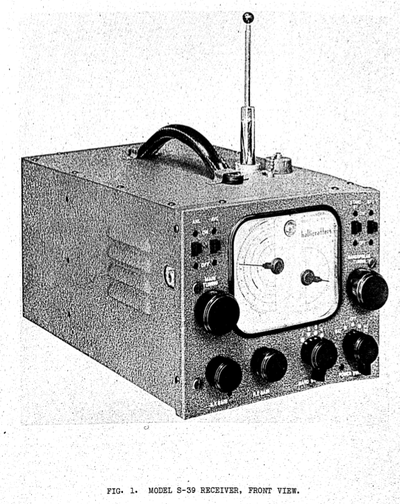 Related Files
Technical Manual

Radio Receiver
R-80-( )/PR
Hallicrafters Sky Ranger Model S-39
4 May 1944
References
↑ TM 11-876,

"US Army Technical Manual Collection,"

from the CECOM Historical Office archive, Aberdeen Proving Ground, MD.