OA-8991
Jump to navigation
Jump to search
There are at least 3 versions of the OA-8991:
1. The Repair Facility OA-8991/MSM is a modified (X)M-991 Van.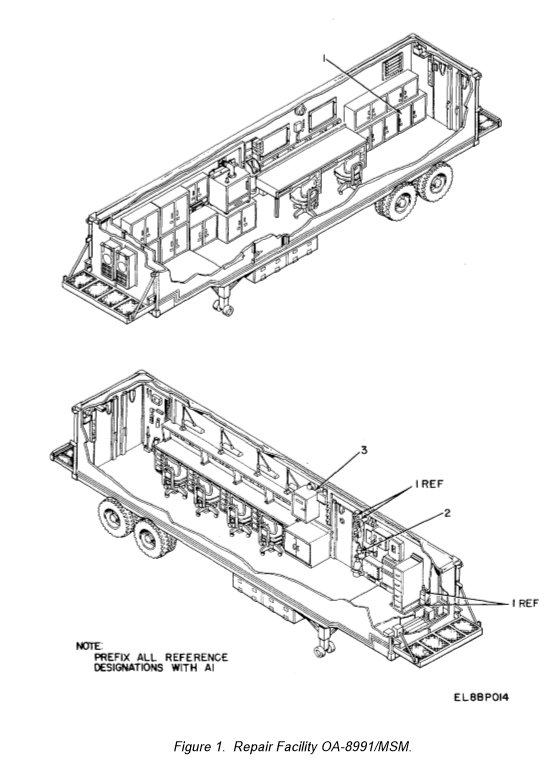 2. The OA-8991/TSM-191 is a Electronic Repair Shelter (ERS) of the AN~TSM-191(V).
3. The Electroniac Equipment Repair Facility OA-8991/USM-410(V)
Reference File
TM 11-5410-217-14 OPERATOR`S, ORGANIZATIONAL, DIRECT SUPPORT AND GENERAL SUPPORT MAINTENANCE MANUAL FOR REPAIR FACILITY, ELECTRONIC EQUIPMENT, OA-8991/MSM (NSN 6625-01-070-4404) (REPRINTED W/BASIC INCL C1-2) Restricted!
TM 11-5410-217-24P ORGANIZATIONAL, DIRECT SUPPORT, AND GENERAL SUPPORT MAINTENANCE REPAIR PARTS AND SPECIAL TOOLS LIST (INCLUDING DEPOT MAINTENANCE REPAIR PARTS AND SPECIAL TOOLS)FOR REPAIR FACILITY, ELECTRONIC EQUIPMENT OA-8991 /MSM (NSN 6625-01-070-4404)

TM 11-5410-217-24P 1983 (LOGSA)
See Also
TSM - Transportable Special Maintenance