MAB
Jump to navigation
Jump to search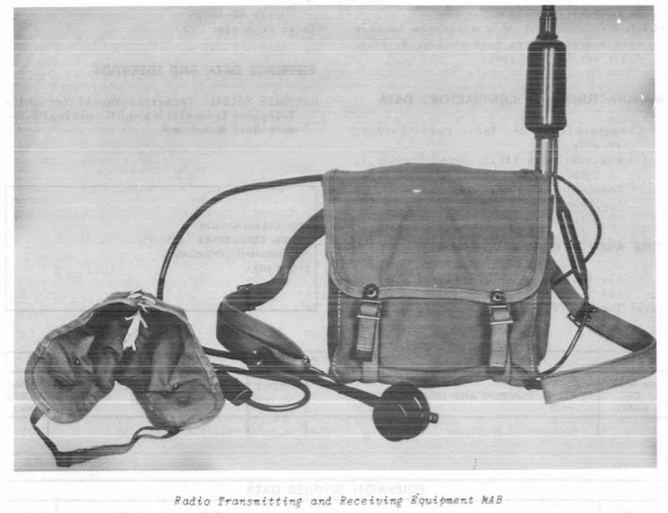 FUNCTIONAL DESCRIPTION
The MAB is an ultra-compact, portable voice communication equipment designed to provide a link between paratroop forces. The set is also suitable for reconnaissance or outpost communications. It is satisfactory for communication over a range of approximately one mile, with somewhat increased range between aircraft and ground units.
RELATION TO OTHER EQUIPMENT
Similar to Radio Telephone Transmitting and receiving Cquipments MP, MU, MV, MW, and MX. The MAB may be preset to any frequency within the 2.3 to 4.5 mc limits. while the prior equipments are capable of tuning to onlv a portion of rhis band.
Equipment Required but not Supplied:
(1) Vibrator Power Unit NT-20221
(1) Lead-Acid Storage Battery NT-19046
(1) Battery Pack (Dry) NT-19027A
(1) Canvas Carrying case.
ELECTRICAL AND MECHANICAL CHARACTERISTICS
EMISSION & RECEPTION

A3

FREQUENCY RANGE

One preset frequency within range of 2.3 to 4.5 mc.

POWER OUTPUT

0.2 W

POWER REQUIREMENTS

6.4 v storage battery with vibrator power unit or 1.5, 6, 67.5, 135 v dry battery pack.
TUBE AND/OR CRYSTAL COMPLEMENT
Tubes

(1) 1R5
(1) 1S5
(2) 1T4
(3) 3S4
Crystals

(2) NT-40125
Related Files

Navy Model MAB
Instruction Book for

Navy Model MAB
Radio Telephone Transmitting and Receiving Equipment
1 October 1942