M-29/U
Jump to navigation
Jump to search
Carbon microphone M-29B/U is a low impedance unit with a noise canceling feature and is suitable for use in places where high level background noises are encountered. This item is immersion resistant.
The unit consists of an M-51/UR microphone element mounted in a holder which contains a push- to-talk switch. The switch may also be used to operate external circuitry. It has a coiled retractable cord which is extendable to five feet.
CONSISTS OF

1 Microphone, Carbon, M-29B/U

Including

1 Microphone Cover, CW-292/U
1 Handle
1 Five-conductor retractable cord with a ten-pin connector
1 Microphone Unit M-51/UR
Technical Description
Operating Current

50 milliamperes

Nominal Impedance

60 ohms at 1, 000 cps

Frequency Range

300 to 4, 000 cps
Images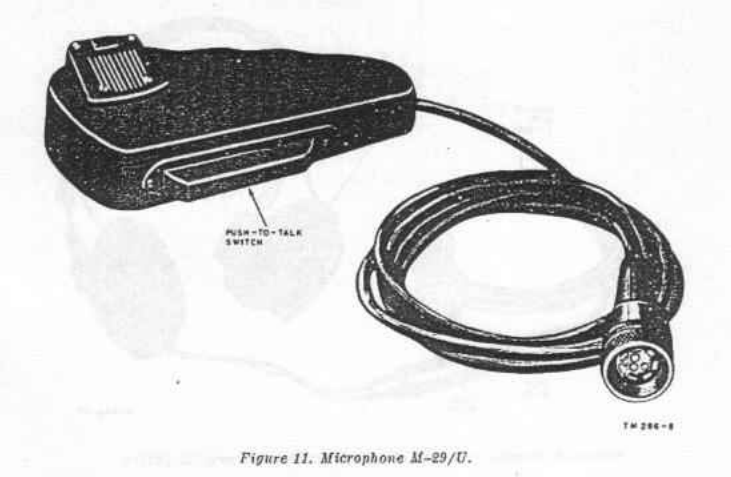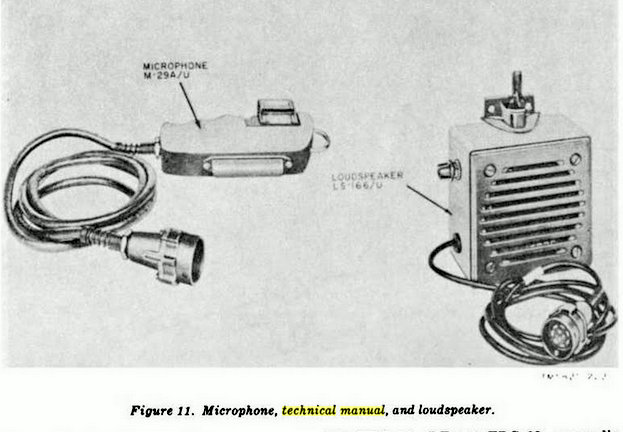 As used with the AN/TRC-68 Radio Set.
Related Files

Specification MIL-DTL-11193E
This specification covers two types of hand-held, noise-canceling microphone with an impedance of 40 to 100 ohms, designated as ::Microphone M-29/U and Microphone M-52/U

MIL-HDBK-173
DEPARTMENT OF THE ARMY TECHNICAL MANUAL 11-487M
MILITARY STANDARDIZATION HANDBOOK

AUDIO ,EQUIPMENT
24 June 1966