I-72-(*)
Jump to navigation
Jump to search
Signal generator Part of IE-9 and IE-26 Self-containing; for operating on a 105-130 volts, 60 cycle (3F3852.1) or 25 cycle (3F3852.2), single phase power Frequency range 100-32.000 kc, with provisions for 400-cycle modulation. Intended for vehicular use.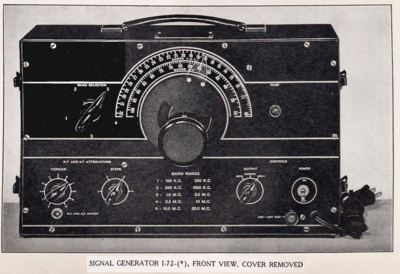 Reference Files

TM 11-307J
War department Technical Manual
Signal Generator

I-72-J
April 14, 1943

TM 11-4052
War Department Repair Manual
Signal Generators

I-72-A, -B, -C, -D, -E, -F, -G, -H, -J, and -K
Dec. 1945.