AN/PRC-152
Jump to navigation
Jump to search
MULTIBAND HANDHELD RADIO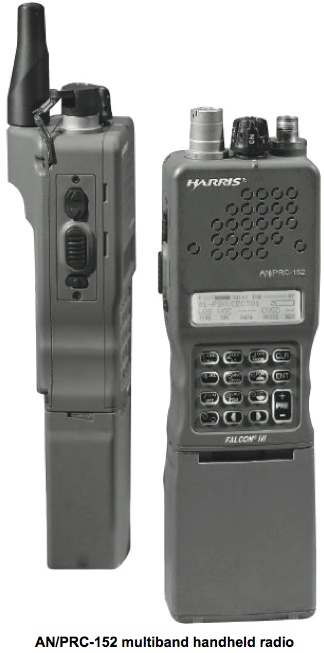 The AN/PRC-152 is a SC multiband handheld radio that has a JTRS architecture and software communications architecture. It also provides the optimal transition to JTRS technology. The AN/PRC-152 supports SINCGARS, HAVEQUICK II, VHF/UHF AM and FM. HAVEQUICK II and VHF/UHF AM and FM waveforms are ported versions of the preliminary JTRS library waveforms; validating the AN/PRC-152 JTRS architecture. Refer to Figure 4-16 for an example of an AN/PRC-152.

The AN/PRC-152 encryption device maximizes battery life in battery powered radios. It also supports all JTRS COMSEC and TRANSEC requirements as well as the ability to support numerous device compatibility modes: KY-57/VINSON, ANDVT/KYV-5, KG-84C, DS-101, and DS-102.

The AN/PRC-152 includes an embedded GPS receiver to display local position and to provide automatic position reporting for SA on the battlefield. The vehicular version of the AN/PRC-152 is the AN/VRC-110.
AN/PRC-152 VHF/UHF LINE OF SIGHT FIXED FREQUENCY PT
The AN/PRC-152 has the following VHF/UHF LOS operation frequency bands
VHF low band of 30.00000–89.99999 MHz
VHF high band of 90.00000–224.99999 MHz
UHF band of 225.00000–511.99999 MHz
AN/PRC-152 VHF/UHF LINE OF SIGHT FIXED FREQUENCY CT
The AN/PRC-152 has following fixed frequency CT operation capabilities and limitations
VINSON — 16 kbps data rate, 25 kHz wideband COMSEC (KY-57/58) mode for secure voice and data.
VINSON PT override — alerts the RTO that a receiving transmission from an AN/PRC-152 in PT mode is being received.
KG-84C compatible — (data only) supports secure data transmission in FM mode 30.00000– 511.99999 MHz, and AM mode from 90.00000–511.99999 MHz. It is also used for UHF SATCOM operation.
TEK — electronically loaded 128-bit transmission encrypted key used to secure voice and data communications.
COMSEC fill — TEKs,TSKs,and KEKs can be filled from the following devices: ANCD, MX- 18290, KYK13, and KYX-15.