AN/MPG-1
Jump to navigation
Jump to search
Radar Set AN/MPG-1 is a mobile, medium range radar unit designed for use with seacoast artillery. The functions of the radar are:
a) to supply exact present position data on targets within 28,000 yards to gun directors or other gun positioning apparatus
b) to search for approaching surface craft and to supply data on the range (distance)and azimuth (direction) of detected targets. The maximum operating range of the equipment is 80,000 yards.
c) to supply "splash spotting" data for correcting artillery fire.
Components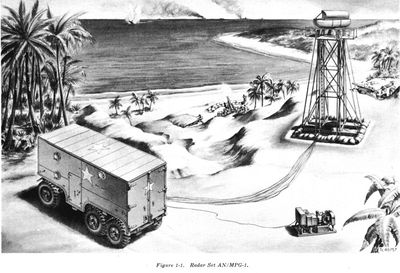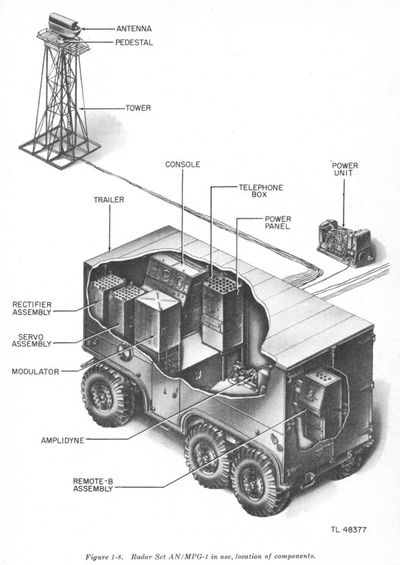 Reference Files
Technical Operation Manual
General Description
Operating Description
Equipment Performance Log

Radar Set

AN/MPG-1
AN/FPG-1

15 March 1945
TM 11-1466 Radar Set AN~MPG-1 and Radar Set AN/FPG-1 Preventive Maintenance Manual. War Dept. Mar. 1945. 1 v. (various pagings) U408.3.A13 TM 11-1466 Mar. 1945,

TM 11-1466 March 1945
TM 11-1566 Radar Set AN~MPG-1 and Radar Set AN/FPG-1 Service Manual 1945-03-15
References
↑ TM 11-1366,

"US Army Technical Manual Collection,"

from the CECOM Historical Office archive, Aberdeen Proving Ground, MD.