AM-1780/VRC
Jump to navigation
Jump to search
Description
The main junction box for the AN/VIC-1. Provides control of the dc power to the associated crew member control boxes and to the radio system that may be connected to the amplifiers. The amplifiers also amplify and control the audio signals in the intercommunication (intercom) and radio circuits. The AM-1780 also allows connection of 2-wire telephone equipment, or direct 2-wire connection between similarly equipped vehicles via binding post connectors. See sample integrations for other non-standard radios at Integrating the VIC-1 with other equipment.
Switch Settings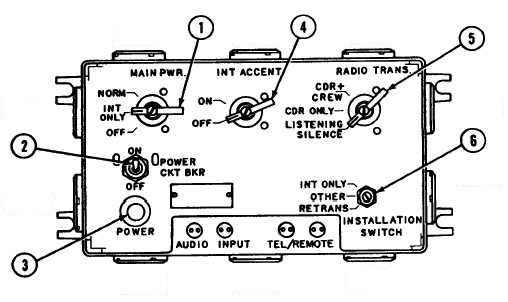 MAIN POWER (1)
NORM

Intercom and all radios configured for remote control power. Requires install mode "OTHER". Power comes in J501 (A radio) jack. Switched power is returned back to A radio on pin D. (May also be sent on J503)

INT ONLY

No power provided to radios configured for remote control power.

OFF

Intercom and radios configured for remote power turned off. Audio is still enabled and functions in headsets. There is a direct connection from speaker audio to the headsets.
POWER CKT BKR (2)
ON

Power is applied to the AM-1780

OFF

Circuit breaker has tripped or is turned off. This does not turn off radios that are configured for remote power.
POWER (3)
Power indicator lamp
INT ACCENT (4)
ON

Radio receive volume is reduced when intercom keyed.

OFF

Radio receive volume is not reduced when intercom keyed.
RADIO TRANS (5)
CDR+CREW

Allows any station to key radio

CDR ONLY

Only commander can key radio

LISTENING SILENCE

Radio transmission is disabled
INSTALLATION SWITCH (6)
INT ONLY

Used when no radios are installed, Power comes in through J508. Radio functions are not active.

OTHER

Normal install position for use with radios, Power comes in through J501 (A radio) connection. Radio and PTT functions are active.

RETRANS

Same as "OTHER" except retransmission is enabled. Requires C-2299 module be installed.
Jack Functions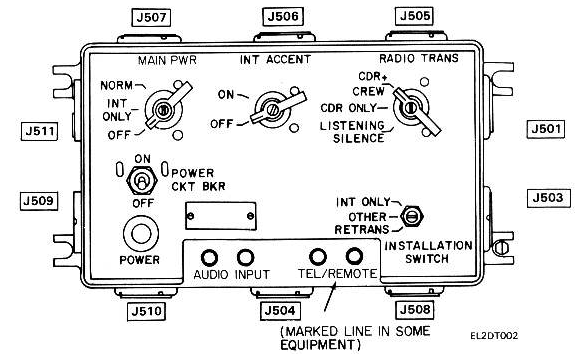 J501

"A" Radio connection. Also supplies power to AM-1780 in "OTHER" mode.
J503

"C" radio connection
J504

Commander Control Box, Independent of Crew connections (J505-J507)
J505

Crew Intercom Control Box, Paralleled with other crew jacks (J505, J506, J507)
J506

Crew Intercom Control Box, Paralleled with other crew jacks (J505, J506, J507)
J507

Crew Intercom Control Box, Paralleled with other crew jacks (J505, J506, J507)
J508

Power connection when in "INT ONLY" mode or C RX radio in "OTHER" mode
J509

C-2299 Retransmission connection
J510

"B" Radio (RX only) connection
J511

C-2299 Retransmission connection
Pinouts
(J501, J22) To Radio Mount
When used between the VIC-1 and the VRC radio
A - Ground
B - +25.5 VDC Common
C - +25.5 VDC, Radio Mount Link
D - Radio "A" Power Relay Control
E - NC
F - NC
H - Radio "A" Earphones (Variable Audio)
J - NC
K - Radio "A" Fixed Audio
L - NC
M - NC
N - NC
P - NC
R - NC
S - Radio "A" Keying (Gnd)
T - Radio "A" Retrans Control
U - Radio "A" Mic
V - NC
(J505, J506, J507, J801, J804, J904) To C-2298 Intercom Box
A - Ground
B - "B" Position Earphone Audio
C - +25.5 VDC
D - "A" Position Keying
E - "INT ONLY" Position Mic
F - "C" Position Keying
H - "INT" Position Keying
J - "C" Position Earphone Audio
K - "A" Position Mic
L - "ALL" Position Mic
M - "A" Position Earphone Audio
N - Telephone Line (C-2297, C-2296)
P - NC
R - NC
S - NC
T - NC
U - Telephone Line (C-2297, C-2296)
V - "C" Position Mic
(J504, CDR1, J801, J804) To C-2298 Intercom Box Commanders Box
A - Ground
B - "B" Position Earphone Audio
C - +25.5 VDC
D - "A" Position Keying
E - "INT ONLY" Position Mic
F - "C" Position Keying
H - "INT" Position Keying
J - "C" Position Earphone Audio
K - "A" Position Mic
L - "ALL" Position Mic
M - "A" Position Earphone Audio
N - NC
P - NC
R - NC
S - NC
T - NC
U - NC
V - "C" Position Mic
(J511, J22) To Retrans
A - Ground
B - NC
C - +25.5 VDC
D - NC
E - NC
F - NC
H - NC
J - NC
K - Radio "A" Fixed Audio
L - Radio "A" Keying Retrans
M - NC
N - NC
P - NC
R - NC
S - Radio "A" Keying
T - Radio "A" Retrans Control
U - Radio "A" Mic
V - NC
(J510, J121) To Receiver B
A - Ground
B - NC
C - NC
D - NC
E - NC
F - NC
H - Receiver "B" Variable Audio
J - NC
K - Receiver "B" Fixed Audio
(J508) To Power or Receiver C
A - Ground
B - +25.5 VDC
C - Receiver "C" Fixed Audio
D - Receiver "C" Variable Audio
Related Files

TM 11-5830-340-12
OPERATOR'S AND ORGANIZATIONAL MAINTENANCE MANUAL

INTERCOMMUNICATION SET AN/VIC-1(V) (NSN 5830-00-856-3273)

CONTROL, INTERCOMMUNICATION SETS

C-10456/VRC (NSN 5830-01-082-0804)
C-10680/VRC

AMPLIFIER, AUDIO FREQUENCY

AM-7046/VRC
15 January 1986

TM 11-5830-340-30
Direct Support Maintenance

INTERCOMMUNICATION SET AN/VIC-1(V) (NSN 5830-00-856-3273)
15 September 1986
AM-1780B

TM 11-5895-1548-24P
UNIT, DIRECT SUPPORT AND GENERAL SUPPORT MAINTENANCE

REPAIR PARTS AND SPECIAL TOOLS LIST
AMPLIFIER, AUDIO FREQUENCY
AM-1780B/VRC (NSN 5895-01-284-3057)
1 NOVEMBER 1997

TM 11-5895-1548-34
DIRECT AND GENERAL SUPPORT MAINTENANCE MANUAL

AUDIO FREQUENCY AMPLIFIER
AM-1780B/VRC (NSN 5895-01-284-3057)
1 MAY 1995