Difference between revisions of "TA-838~TT"
Jump to navigation
Jump to search
---
Latest revision as of 22:14, 26 February 2015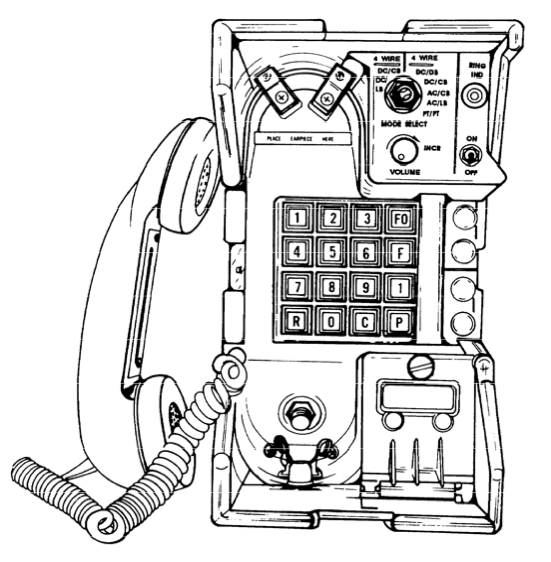 The TA-938/G is a two-wire common-battery telephone set intended for use in sheltered areas. The telephone uses DTMF signaling. Two sets can be bridged across a single two-wire line for extension service.
Technical Characteristics
Range

Approximately8km(5.0mi) from central office

Type of Operation

Common battery

Signaling Voltage

90 V AC,20Hz

Type of Signal

Bell

Power Requirement

Supplied by central office

Weight

l.8 kg (4lb)
Related Files

TM 11-5805-650-12
Operators and Organizational Maintenance Manual

TELEPHONE SET
TA-838/TT (NSN 5805-00-124-8678)
TA-838A/TT (NSN5805-01-125-5976)
25 January 1985

TM 11-5805-650-20P
ORGANIZATIONAL MAINTENANCE REPAIR PARTS AND
SPECIAL TOOLS LIST FOR

TELEPHONE SET
TA-838/TT (NSN 5805-00-124-8678)
TA-838A/TT (NSN5805-01-125-5976)
12 September 1985

TM 11-5805-650-34P
DIRECT SUPPORT AND GENERAL SUPPORT MAINTENANCE REPAIR PARTS AND SPECIAL TOOLS LIST

TELEPHONE SET
TA-838/TT (NSN 5805-00-124-8676)
TA-838A/TT (NSN 5805-01-125-5976)
12 September 1985

TM 11-5805-650-34&P
DIRECT SUPPORT AND GENERAL SUPPORT MAINTENANCE MANUAL

TELEPHONE SET
TA-838/TT (NSN 5805-00-124-8678)
TA-838A/TT (NSN 5805-01-125-5976)
October 1976