AN/TRC-66
Jump to navigation
Jump to search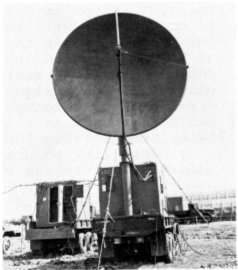 The AN/TRC-66A Radio Set is a general purpose, super high frequency (SHF), line of sight (LOS), radio relay and tropospheric forward scatter system. The AN/TRC66A is packaged in two identical radio equipment shelters designed for rapid tactical deployment. For line of sight operations, one AN/TRC-66A shelter is employed at each terminal station. For the tropospheric scatter mode, two AN/TRC-66A shelters (one radio set AN/TRC-66A) are employed at each terminal station, thereby improving reception through diverse operations. The equipment can be transported by helicopter, truck, or cargo aircraft. The antenna consists of a reflector, support structure and a dual polarized (horizontal and vertical) feed horn. The antenna reflector is parabolic in shape and is constructed of sheet metal sections which are bolted together for operation. In addition, the antenna is stored in a transit case during transport, and is designed for rapid erection at the operating site. Each AN/TRC-66A shelter houses the radio equipment, a portion of the waveguide transmission lines, and accessory equipment. This shelter is also the mounting base for the antenna when set up for operation. The equipment is compatible with the AN/MCC-12 Frequency Division Multiplexer which has 12 to 252 KHZ baseband output.
CAPABILITY: Capable of transmitting multiplex voice, teletype or data channels. In conjunction with the AN/MCC-12, the AN/TRC-66A has the capability of transmitting 60 multiplexed voice channels simultaneously. One voice channel may be designated for transmission of 16 teletype channels. This set may be used as a fixed terminal, relay, combination terminal/relay, with capability to drop out or insert information into the system. FREQUENCY RANGE: 4400 to 5000 MHz (4.4-5.0 GHz).
ANTENNA GAIN: Parabolic: 42.0 db, 1.2° beam width.
POWER REQUIREMENTS: 120/208 VAC @ 400 Cps, 4 wire, 3 phase, 7545 watts maximum per shelter.
POWER OUTPUT: Tropo: 1 KW nominal. LOS: 1 watt.
SITING CRITERIA: Antenna must be free from obstacles for line-of-sight as well as tropo.
ERECTION TIME: 10 hours.
MODULATION: FM
DIVERSITY: Space, polarization, frequency diversity.
DISTANCE RANGE: 1 to 100 nautical miles (1000 miles with relays).
SPECIAL TOOLS: Drill Bit Drill Rods Gasoline-powered hammer and drill Mobilizer Transit and tripod
MAJOR COMPONENTS: NOMENCLATURE COMMON NAME
MANUFACTURER: General Instrument Corporation.
WEIGHT: One shelter with radio equipment 2684 lbs. One antenna group with case - 1375 lbs.
CUBE: One shelter with radio equipment 387 cu. ft. One antenna group - 380.8 cu. ft.
See Also
Reference Files
APPLICABLE TOs:
31R5-2TRC66-12 - - Service Instr.
31R5-2TRC66-13 - - Circuit Diag.
31R5-2TRC66-14 - - Illus. Parts Brkdn.
31R5-2TRC66-16WC-1 PMI Workcards
31R5-2TRC66-19 - - Align. Instr.