Difference between revisions of "AN~TPS-1"
Jump to navigation
Jump to search
 

Line 1:
Line 1:
−

[[File:S-3.TPS-1.jpg]]

+
 
+
 
+

 

 
+

[[File:S-3.TPS-1.jpg]]

 
+
 
+

 

 
+
 
+
---
Revision as of 23:29, 28 January 2018
AN/TPS-1 Radar was a Long Range Search Radar used by the United States Air Force Air Defense Command, manufactured by Bendix Corporation. The AN/TPS-1 is a lightweight portable search radar developed during World War II to provide early warning of enemy air attacks. It breaks down into 10 individual packages for easy delivery to forward areas by ship, cargo plane or truck. If necessary, the separate packages can be carried to very remote locations on foot or by pack animals, then quickly assembled for use. AN/TPS-1s were used to defend many beach-heads in the Pacific during the war and were among the first portable radar units to go into operation following the invasions of Iwo Jima and Okinawa. These units saw considerable postwar service.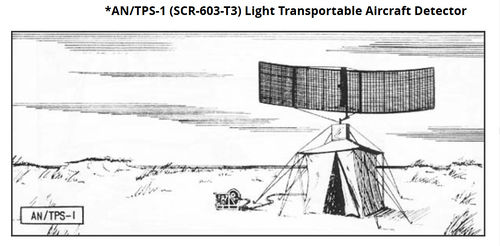 Components
References
TM 11-1447A Radio Set AN~TPS-1A Preventive Maintenance Manual. War Dept. Sep. 1944. 100 p. U408.3.A13 TM 11-1447A Sep. 1944