WF-16~U
Jump to navigation
Jump to search
WF-16/U field phone wire, which is officially named "CABLE, TELEPHONE, WF-16()/U", consists of two pairs of parallel-stranded insulated conductors for use in 4-wire telephone circuits. Each pair is insulated with high density polyethylene. One pair is colored olive drab and has two ridges to allow it to be identified by touch in the dark. The other pair is brown, and lacks the ridges. Visually, WF-16/U wire looks like two lengths of "zip cord" or "lamp cord", loosely twisted together.
The National Stock Number (NSN) for WF-16/U is 6145-00-910-8847. WF-16/U is specified in standard MIL-DTL-55425E (formerly, MIL-C-55425).

Key characteristics include:
Conductors each consist of 7 strands of bare, hard-drawn copper alloy #85 wire, each with a diameter of 0.0085±0.0001 inches.
Insulation is high-density linear polyethylene, containing 1%-3% titanium dioxide ultraviolet inhibitor. Minimum wall thickness at any point is 0.014 inches.
Dimensions of each pair are:

Major axis: 0.125±0.008 inches
Minor axis: 0.083±0.005 inches
Conductor separation: 0.038±0.005 inches

Weight per mile: 62 pounds
Characteristic impedance for DNVT signaling: 132Ω
Standard unit of product: One mile +2%/-0% wound on reel DR-5, with both ends accessible.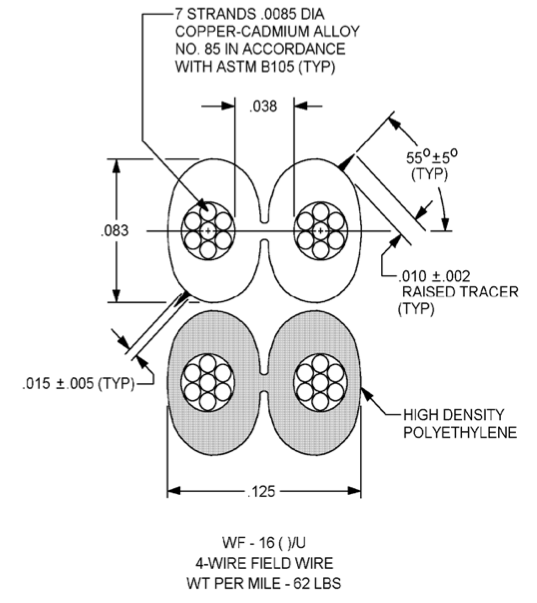 Related Files

MIL-DTL-55425E

Associated Industries catalog of field wire, cable and reels