M30 Signal Corps general repair truck
Jump to navigation
Jump to search
Not all signal corps vehicles were assigned a K number, some were assigned Ordnance numbers since they were just a variation of the CCKW repair van, officially called the Shop Truck ST-5 van body and ST-6 van body. It came in two versions, the M30 and M31.
M30 has isolated shock mount shelves for delicate equipment, 6 to 24VDC battery charger, air compressor, and more outlets and plug-ins to allow multiple units to be simultaneously tested.
M31 Has two repair benches for communications equipment. Includes hand and power tools and bench grinder. No generator provided.
Both had the ST-5 van body in common
repair Van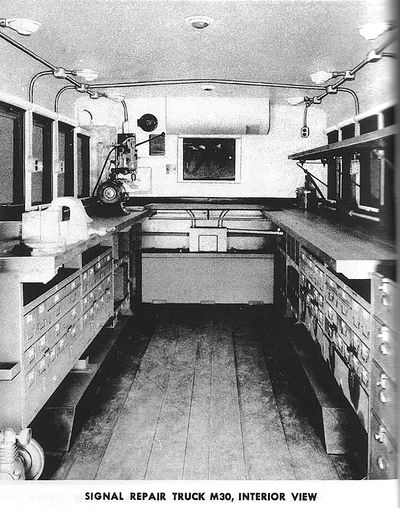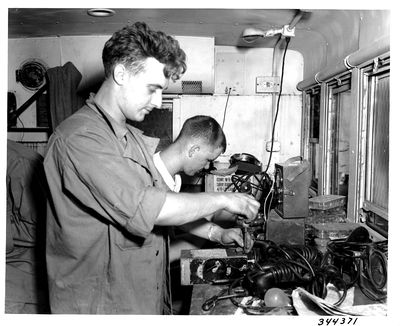 See Also
M10A1 and M10A2 Instrument Repair Truck
References
ORD 7 SNL G-235 Headquarters, Army Service Forces, Jan.11,1945, incl. changes 1,2 and 3

ORD 7 SNL G-235 1945 Truck, 2 1/2-Ton, 6x6, Signal Corps Repair M30.
ORD 7 SNL G-229 Headquarters Army Service Forces, Jan.6, 1945 Organizational Spare Parts and Equipment for Truck 2 1/2-Ton, 6x6, Signal Corps General Repair, M31 and Truck, 2 1/2-Ton, 6x6, Small Arms Repair (Signal Corps), M7

ORD 7 SNL G-229 1945