ICOM F43G
Jump to navigation
Jump to search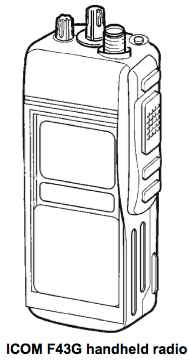 Description
The ICOM F43G handheld radio is a COTS system. It is a short range, handheld radio fielded with headset and an encryption module. It is employed at the lowest echelon of command, to control squads and teams. The ICOM F43G is used to provide the Soldier with a small light weight, rugged handheld radio with capability of secure UHF 2-way communication.

The ICOM F43G (Figure 8-2 is an example of the ICOM F43G) has the following characteristics and capabilities—
UHF operation in the 380–430MHz frequency range.
4 miles (6.4km) plus transmission in the unencrypted mode.
256 memory channel capacity.
16 memory banks that allow for division and storage of a variety of flexible channel groupings.
Built-in multi-format tone signaling and built-invoice scrambler.
It uses a data encryption standard card which can be upgraded for secure communication.