AN/URC-100, 101, 104
Jump to navigation
Jump to search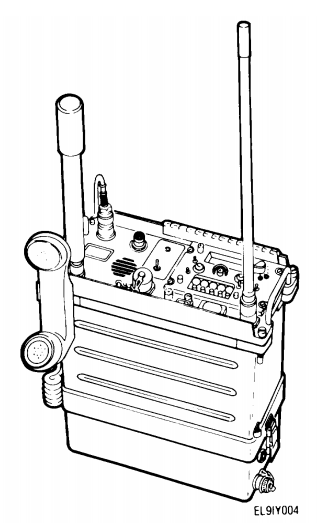 The receiver/transmitter used in models AN/URC-100, AN/URC-101 and AN/UBC-104 is a solid-state voice line-of-sight radio set normally used to receive and transmit plain text voice messages. They can also be used with external COMSEC equipment to transmit and receive cipher text (encrypted or scrambled) messages. The AN/URC-100 and AN/URC-101 operate in the 116 to 150 MHz VHF band and in the 225 to 400 MHz UHF band The AN/URC-104 radio operates in the 30 to 88 MHz VHF band and in the 225 to 400 MHz UHF band. The three models are tunable across their frequency ranges in 25 kHz steps.
Operating power for the receiver/transmitter comes from the battery pack that supplies -28 V to operate the radio circuits and the front panel lamps. The display operates from +5 V which is stepped down from the +28V.
The receiver/transmitter should be operated at a 9:1 receive to transmit duty cycle. When operating at this ratio, the batteries will last 8 hours for low power (5 watts) output and 6 hours for high power (20 watts) output. Operating in the beacon mode the batteries will last 1.5 hours with low power (5 watt) output.
Specifications
Modes

AM or FM Voice
AM or FM Cypher text
AM or FM Emergency Beacon

Frequency Range

AN/URC-100

225-400 MHz
116-150 MHz

AN/URC-101

225-400 MHz
116-150 MHz

AN/URC-104

225-400 MHz
30-88 MHz
Number of Channels

8,360 Channels in 25 kHz steps

Power Output

URC-100:

High 5w
Low 1.5w

URC-101:

VHF High 5w
VHF Low 1.5w
UHF/AM Low 1.5w
UHF/AM High 5w
UHF/FM Low 5w
UHF/FM High 20w
Reference Files

TM 11-5895-1195-10
Operator's Manual

Radio Sets
AN/URC-100 (NSN 5820-01-112-0176)
AN/URC-101 (NSN 5820-01-112-0177)
AN/URC-104 (NSN 5820-01-131-5674)
12 July 1984

TM 11-5895-1195-10-HR
HAND RECEIPT
COVERING CONTENTS OF COMPONENTS OF END ITEM (COEI), BASIC ISSUE ITEMS (BII), AND ADDITIONAL AUTHORIZATION LIST (AAL)

RADIO SETS
AN/URC-100 (NSN 5820-01 -112-0176)
AN/ URC-101 (NSN 5820-01-1 1 2-0177)
AN/URC-104 (NSN 5820-01-131-5674)
12 JULY 1984

Document No. 68-P09980V
AN/URC-101
Portable Emergency Transceiver

Operation and Maintenance Manual
April 1985

Document No. 68-P09158W
PTAD-101
Power Supply

Operation and Maintenance Manual
April 1983

Document No. 68-P32903
Single Channel VHF Emulator

Operation and Maintenance Manual
September 1988