AN/GRC-213
Jump to navigation
Jump to search
Overview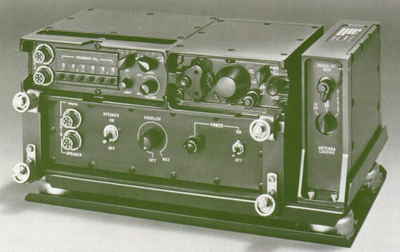 The AN/GRC-213 is an HF low-power transceiver designed for use on wheeled or tracked vehicles. It has the capability of tuning 280,000 different frequencies within the 2– to 29.9999–MHz range. An internal antenna tuner automatically tunes the radio to match any of the three supplied antennas within the operating frequency range. The AN/GRC-213 is made up of Radio Set AN/PRC-104(*), Amplifier-Power Supply AM-7152/GRC-213, interconnecting cables, and Speaker LS-454. The AN/PRC-104(*) can also be used separate from the vehicle as a man pack radio set if desired
Brochure
Capabilities and Features
The AN/GRC-213 is an HF radio set that provides reliable long-range communication for wheeled or tracked military vehicles. The AN/GRC-213 incorporates the AN/PRC-104(*) man pack radio (less battery pack) with an amplifier–power supply and loudspeaker to produce a vehicular system. The AN/PRC-104(*) can also be used with a battery pack for man pack operation. For the detailed capabilities and features of the AN/PRC-104(*), refer to the equipment description paragraph in TM 11-5820-919-12. The amplifier–power supply conditions and filters the vehicular power source for the radio set, in addition to amplifying and squelching the audio output to drive the external loudspeaker. The AN/GRC-213 is easy to install and remove because of quick-release fasteners and connectors. The AN/GRC-213 controls are easy to operate even if the operator wears gloves. Blackout operation is possible because audible indicators are used rather than lighted meters or indicators. These audible indicators provide warning of low vehicular power, transmitter failure, or antenna tuning fault. The watertight AN/GRC-213 maintains frequency stability over the operational temperature range of -46° to +71°C. Pushbutton frequency selection provides 280,000 channels from 2 to 29.9999 MHz in 100-Hz increments with selectable voice/data/cw modes in both upper or lower sideband operation.
AM-7152/GRC-213 Amplifier Power Supply
The amplifier-power supply, together with interconnecting cables, provides interface and isolation between the AN/PRC-104(*), Speaker LS-454/U, and the Vehicle Inter-communication System AN/VIC-1(V). The amplifier–power supply receives input power from the vehicle power source through an electrical power cable assembly. The amplifier-power supply fully conditions and filters the power to protect the AN/PRC-104(*) from over voltage, noise spike transients, radio-frequency interference (RFI), and reverse polarity. The conditioned and filtered power is sent to the amplifier/coupler through another electrical power cable assembly. An audio amplifier with squelch circuitry is provided in the amplifier-power supply for driving an LS–454/U external loudspeaker with one watt of audio power. The amplifier-power supply can interface with the AN/VIC-1(V) to provide a remote handset operation capability. It can also interface with the AN/VIC-1(V) and a VHF FM radio set in the vehicle to provide retransmission capabilities.
Specifications
Power protection

Reverse connection and short circuit

Conditioned current

5.5 amps maximum

Auxiliary current

10 amps maximum

Conditioned voltage

22 V dc minimum, with 26.5 V dc nominal input

Audio input power

2 mW minimum from RT-1209/URC into 500 ohms

Audio output power

1 W (300 to 3000 Hz) into 600 ohms, harmonic distortion 10% maximum

Unmuted audio output power

100 mW into 600 ohms

Monitor amplifier audio output power

0.16 V rms into 150 ohms

Audio frequency response

300 to 3000 Hz 3 dB (1W)

Audio output muting (squelched)

30 dB minimum
Squelch
Sensitivity

Adjustable for 10 to 20 dB SINAD

Attack Time

30ms maximum

Release time

300 µs minimum

Hysteresis

After un-squelching, the un-squelched condition is maintained for up to 2-dB reduction in signal.
AM-7152 Pinouts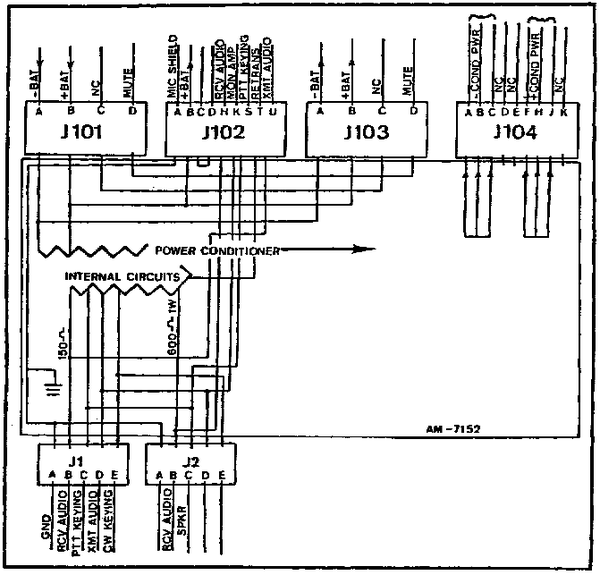 J-101
A
Bat - (Neg)
B
Bat + (Pos)
C
NC
D
Mute
J-102
A
Mic Shield
B
Bat + (Pos)
C
D
H
Receive Audio
K
Mon Amp
S
PTT Keying
T
Retransmission
U
Transmit Audio
J-103
A
Bat - (Neg)
B
Bat + (Pos)
C
NC
D
Mute
J-104
A
Conditioned Power - (Neg)
B
Conditioned Power - (Neg)
C
Conditioned Power - (Neg)
D
NC
E
NC
F
Conditioned Power + (Pos)
H
Conditioned Power + (Pos)
J
Conditioned Power + (Pos)
K
NC
PRC-104 Power Supply Cable
The Power cable that provides filtered power to the PRC-104 is often difficult to source. I already had an "Extension" cable that is used to separate the Battery from the radio, so i decided to cut that cable and use Anderson Power Poles to create a multiple use cable assembly. If required, i can take this cable off and use it in the extender again, or hook this connector to another convenient power source.
Cable installed on the GRC-213
Detail of the Power Cable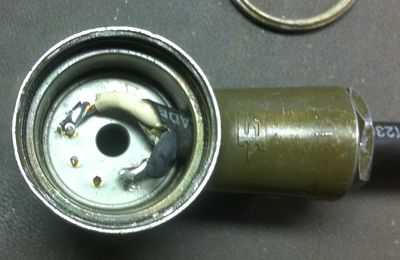 Detail of the 9 pin connector ABC is Negative, FHJ (this only has AB and FH soldered, i have since fixed it)
PRC-104 Power
One of the outer connections is negative (-) (use Meter to verify), center is positive (+)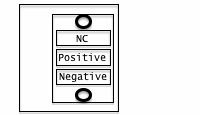 This is looking at the plug, NOT the radio.
Reference Files
AN/GRC-213

TM 11-5820-923-10-HR
HAND RECEIPT

COVERING CONTENTS OF COMPONENTS OF END ITEM (COEI),
BASIC ISSUE ITEMS (Bll), AND ADDITIONAL AUTHORIZATION LIST (AAL)
RADIO SET AN/GRC-213 (NSN 5820-01-128-3935)
14 FEBRUARY 1986

TM 11-5820-923-12
OPERATOR'S AND ORGANIZATIONAL

MAINTENANCE MANUAL
RADIO SET AN/GRC-213
(NSN 5820-01-128-3935)
14 FEBRUARY 1986

TM 11-5820-923-20P
ORGANIZATIONAL MAINTENANCE

REPAIR PARTS AND SPECIAL TOOLS LIST
RADIO SET AN/GRC-213 (NSN 5820-01-128-3935)
1 MARCH 1987

TM 11-5820-923-34P
DIRECT SUPPORT AND GENERAL SUPPORT MAINTENANCE

REPAIR PARTS AND SPECIAL TOOLS LIST
(INCLUDING DEPOT MAINTENANCE REPAIR PARTS AND SPECIAL TOOLS)
RADIO SET AN/GRC-213 (NSN 5820-01-128-3935)
1 MARCH 1987

TM 11-5820-923-40
GENERAL SUPPORT

MAINTENANCE MANUAL
AMPLIFIER-POWER SUPPLY
AM-7152/GRC-213 (NSN 5820-01-127-5855)
14 FEBRUARY 1986

TM 11-2300-476-14P
OPERATOR'S, ORGANIZATIONAL, DIRECT SUPPORT, AND GENERAL SUPPORT MAINTENANCE MANUAL
(INCLUDING REPAIR PARTS AND SPECIAL TOOLS LIST)

INSTALLATION KITS, ELECTRONIC EQUIPMENT:
MK-2442/GRC-213 FOR ARMORED PERSONNEL CARRIER-M113A1 (NSN 5820-01-189-9791)
MK-2443/GRC-213 FOR UTILITY TRUCK-M151A1 (NSN 5820-01-189-9792)
MK-2444/GRC-213 FOR CARGO TRUCK-M561 (NSN 5820-01-189-9788)
MK-2445/GRC-213 FOR CARRIER COMMAND POST-M577A1 (NSN 5820-01-189-9793)
MK-2446/GRC-213 FOR TRUCK-M882 OR -M1008A1 CUCV (NSN 5820-01-189-9789)
MK-2447/GRC-213 FOR GENERAL PURPOSE WHEELED OR TRACKED VEHICLES (NSN 5820-01- 189-9790)
1 JANUARY 1987
AN/GRC-213A

GTA 11-03-053
Operating Procedures Short-Term Antijam (STAJ) Compatible Improved High Frequency Radio (IHFR)

Radio Sets
AN/PRC-104B
AN/GRC-213A
AN/GRC-193B
June 1992

TM 11-5820-1047-20P
ORGANIZATIONAL MAINTENANCE REPAIR AND SPECIAL TOOLS LIST

RADIO SET
AN/GRC-213A(V)1 (NSN 5820-01-262-9548)
15 MAY 1990

TM 11-5820-923-40P
GENERAL SUPPORT MAINTENANCE

REPAIR PARTS AND SPECIAL TOOLS LIST
AMPLIFIER, POWER SUPPLY
AM-7152/GRC-213A(V)l
1 FEBRUARY 1990