AN/GRA-50
Jump to navigation
Jump to search
Antenna Group AN/GRA-50 (fig. 1) is a doublet antenna assembly used for the transmission and reception of radio signals between 1.5 and 20 megacycles (mc). Antenna Group AN/GRA-50 is used primarily with Radio Set AN/GRC-19 for greater range and reliability than the standard 15-foot whip antenna provides. It can be used with any radio set that has the proper frequency range and a transmitter power output of less than 100 watts at an output impedance of approximately 50 ohms.
Technical Characteristics
Antenna type

Half wave doublet.

Frequency range

1.5 to 20 mc. Power handling

Capability

100 watts (maximum).

Weight

ll.75 lb.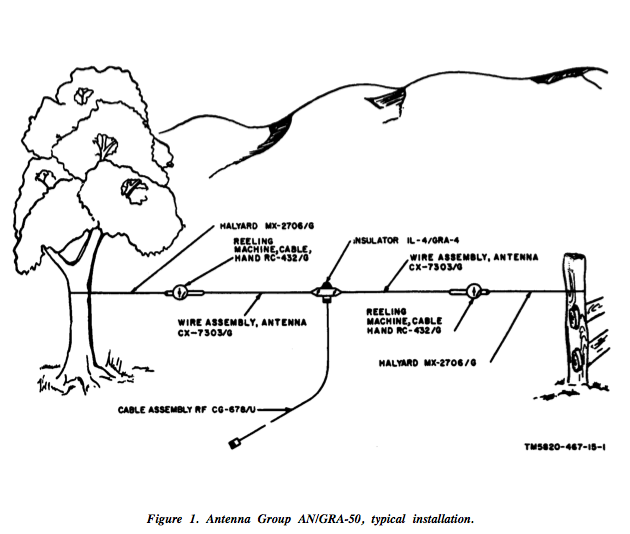 Additional Files

TM 11-5820-467-15
OPERATOR, ORGANIZATIONAL, FIELD, AND DEPOT MAINTENANCE MANUAL

ANTENNA GROUP AN/GRA-50
19 July 1961

TM 11-5820-467-24P
ORGANIZATIONAL, DIRECT SUPPORT, AND GENERAL SUPPORT MAINTENANCE REPAIR PARTS

SPECIAL TOOLS LISTS (INCLUDING DEPOT MAINTENANCE REPAIR PARTS
SPECIAL TOOLS) FOR ANTENNA GROUP
AN/GRA-50 (NSN 5985-00-892-0758)
31 December 1976